Our Fleet
When you travel with DACOS, you travel in style.
Our fleet of top-of-the-line charter buses are the newest, most comfortable and reliable motorcoachs on the Romanian roads today.
Since 2004, DACOS's fleet is entirely made up of buses and coaches manufactured by the Dutch company, VDL Bus & Coach.

In recent years the Magiq has undergone considerable modifications. On the outside this luxury coach has retained its unique character, with the beautifully curved rear, but underneath the Magiq has been brought more closely into line with the operators' practical wishes. We apreciate Magiq is highly rated because of the lightweight materials used, impressive engine performance and comfort.

For more than 25 years the Futuras have been easily recognisable by their unique, distinctive styling. Thanks to its low unloaded weight, the Futura is synonymous with fuel efficiency. With an EEV exhaust filter, the Futura represents even more advantages for the coach owner and the environment, because now extremely economical fuel consumption is combined with a considerable reduction in harmful emissions.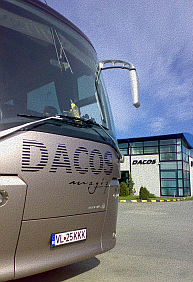 On-board features
Our coaches are specifically designed for the comfort and convenience of passengers and offer the following features:
• Roomy reclining seats with plenty of leg room;
• Adjustable foot rests;
• Individual reading lights;
• Spacious restrooms;
• Overhead racks for carry-on bags;
• Climate-controlled air conditioning and heating systems;
• Huge, tinted picture windows for clear vision with no glare;
• Large, weather-proof luggage compartments;
• Heavy duty shocks for a smooth ride;
• Audio/Video equipment;
• GPS(optional in select markets);
• On-board movies (working project);
• Smart Tire;
• Fire Suppression
VDL Bus & Coach
VDL Bus & Coach is well known as a supplier of reliable, comfortable and economical buses. VDL Bus & Coach's product range is distinguished by versatility and characteristic designs and the use of lightweight materials in combination with aerodynamic shapes sets the pace in the industry.